I am well versed in the Art of Role play and all sessions are tailored to each individuals interest.

Sessions can be planned in advance or improvised and are actually collaborations between the players. The style varies with the personality of each individual client. No two sessions are ever alike as I always seek the spontaneity of the moment.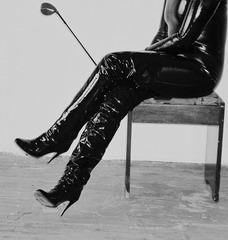 An additional Mistress or Submissive can be made available to join in a session upon advance request.
Sessions can range in length from one hour to several days. Bear in mind that I never rush sessions and that in a one hour session I focus on only a few activities and apparati.
A minimum of a 2-4 hour time slot is encouraged for more elaborate sessions which might include intricate bondage, complete makeovers, and outings.
Extended sessions are generally considered anything upwards of 6 hours. Once again, they are customized to meet your needs and are priced accordingly.
Sessions may consist of lengthy periods of confinement, and bondage ( total, even during sleeping hours, or partial, with periods of controlled freedom ).
The latter may also involve outings such as shopping, dinner or fetish parties, where you are kept in slave like conditions (visible or hidden under your clothing). You may also serve as a house slave/maid or personal slave during your visit.
A prior telephone consultation is advised.