I provide a safe, hygienic, discreet, sane supportive environment thru which you may explore BDSM, fantasies and fetishes. It is imperative that you understand that I do not provide sexual services and that is non negotiable.

Upon your arrival, prior to the onset of the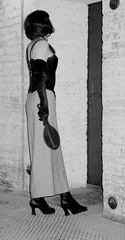 session we will discuss everything that we had previously discussed via telephone or e-mail. This time will also allow you to further discuss your fetish interests, experience, limits, and any medical conditions which may need to be addressed prior to entering into session.
Personal hygiene is imperative and I encourage the use of mouthwash and deodorant.
Your limits will be respected. Therefore, I use a color coded safe word system, as follows:
Red: Which means that you have approached your limits.

Yellow: Means that you are approaching your limits.

Green: Means that you desire to have me intensify the activity which we are engaging in.

Gagged: Grunting rapidly and loudly will indicate that you need to have the gagged removed.

No Limits: I, as the Mistress Genevieve Supreme Goddess, will determine the amount of pain or pleasure you will receive.
Since, ultimately, we are both seeking a pleasurable experience, I encourage you to use sounds and body language and to verbalize feelings so that I can stay tuned in and react appropriately to you ( without the necessity to constantly use safe words ).
Sounds can range from the subtlest sighs, whimpers, and groans, to oohs and ahs, yelps and screams - expressing both pleasure and pain.
I expect to be informed of any problem, discomfort or distraction. In order to receive the full benefit of your experience, I expect you to be receptive , open minded, verbally interactive and focused on the present.
In session, you are required to display proper courtesy and the respect due to a Goddess, and to respond verbally each and every time you are spoken to.
You are forbidden to do anything without permission or instruction. If you have any questions during session, you may ask permission to speak.
After your session is concluded, I will welcome verbal feedback.
Fulfilling your fetish / fantasy needs is an ongoing process that requires trust, communication, dedication of time and your comments will prove valuable in future sessions.