I require a minimum of a one day advance notice for a session, but prefer more time if at all possible.

For overnight sessions you are required to schedule at least one week in advance and to pay a 20% deposit.

Advanced bookings of a week or more stay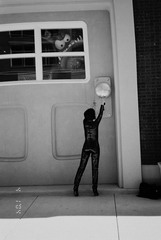 are to be made by phone. A 20% deposit is required, payable by money order, bank draft, or certified cheque and mailed in advance of your appointment. You may contact me directly by telephone as follows:
Monday - Thursday, 10:00 A.M.- 4:00 P.M.
Friday - Saturday - Sunday 10:00 A.M.-10:00 P.M.
Mistress understands that you may be shy about explaining your fantasies.
Proper preparation on your part can help you get over this hump and help you to become known in Mistress' mind before you place yourself in Her hands.
When you call, Mistress may ask you questions. You are advised to consider the following, so that you may be ready to answer:
What are your interests?

Do you like discipline?

Role-play?

Are you a foot-worshiper?

Do you enjoy humiliation?

Forced cross-dressing?
Be as specific with your fantasy as possible.
Read over the activity list and consider what caught your eye. Perhaps you will rehearse your idea a few times before calling, so that you may appear more intelligent.
Mistress provides firm guidance which has helped many to realize their deepest fantasies. She is ready to hear what you need to say, sensitive to the nuances of your situation and stunningly capable of taking you exactly where you need to be, once She knows where
that is.